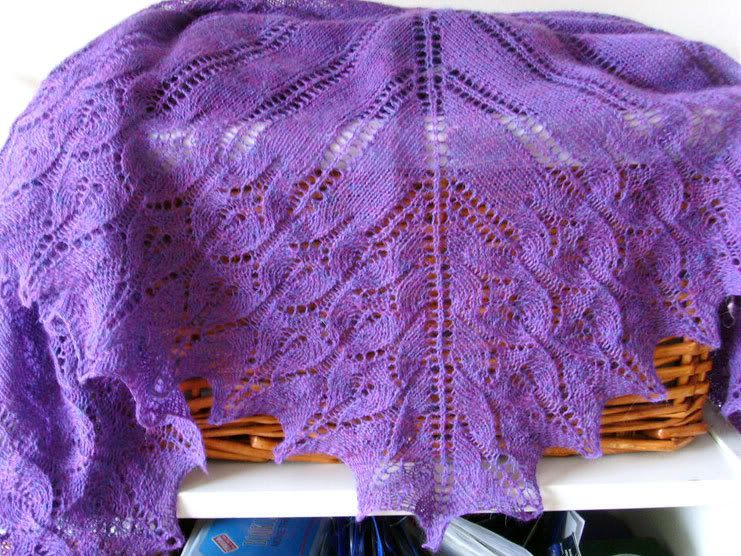 Pattern: Icarus Shawl, by Miriam Felton. Summer 2006 Interweave Knits. (Also now in Best of Interweave Knits)
Cast on: February 4, 2007. Cast off: April 24, 2008.
Yarn: Misti Alpaca Laceweight, 2 skeins plus a bit. (Used enough of 3rd skein to do last 15+ rows and bind off)
Needles: 3.25mm circular, Knitpicks. (Very pointy tips, nice and smooth.)
Modifications: 1 extra repeat of Chart 1. Otherwise I would have used just the two skeins.
Finished Measurements: 70 inches x 36 inches (at widest & tallest points, after blocking)
(DUDE I AM FINISHED. HOLLA.)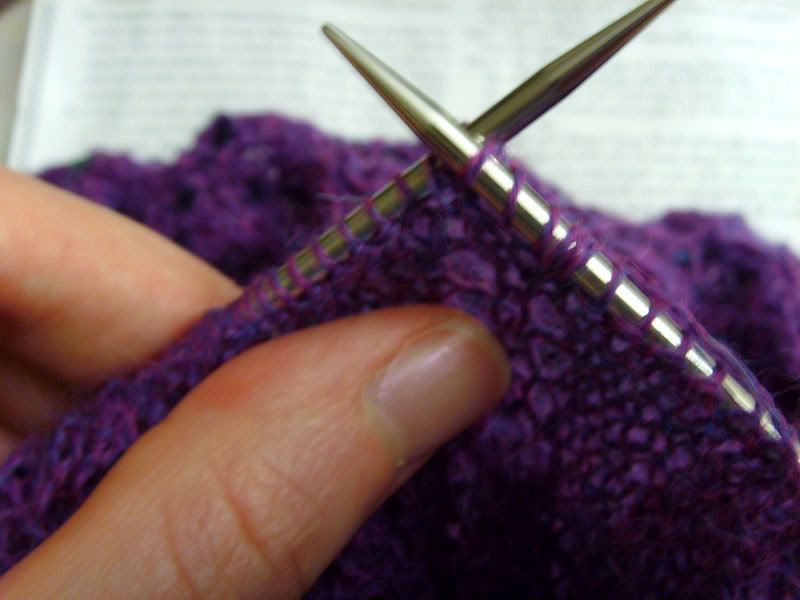 This was an enormous learning project for me, in so many ways I didn't expect. When I bought the yarn it was a treat and something I just took the plunge on not knowing exactly what I was in for, but knowing was a pretty knit, something I've never tried before and that it would be a whole new challenge. Before this, the only lace project I'd tried was Branching Out. I knew the basics of lace and how to read a chart, and that for a triangular shawl you had to increase 4 stitches on every RS row, and that was about it. I had no idea people knit shawls. I had no idea people wore shawls. And here I was trying it out.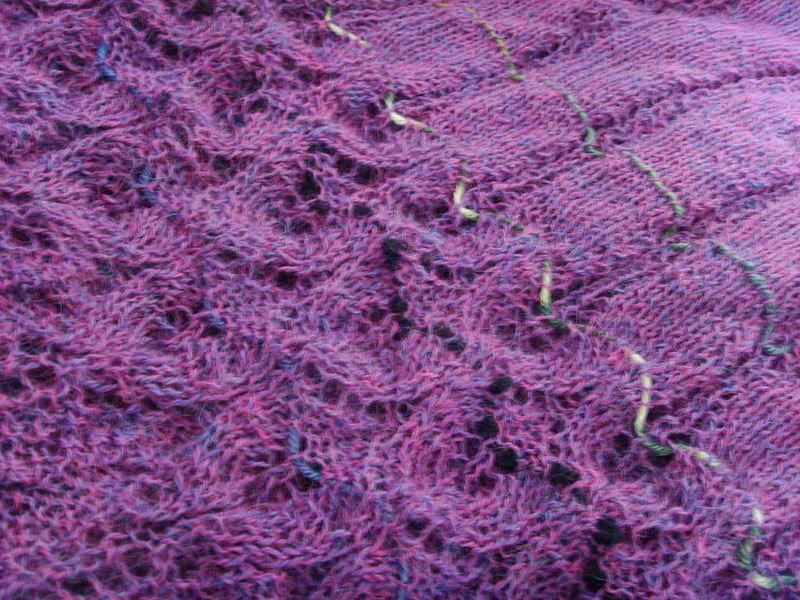 Talking to people and reading other knitters' posts along the way helped me learn. It was also intimidating to learn as I went the kind of challenge I realized I was in for. I heard horror stories of people who ran out of yarn while they were binding off, or people who finished and blocked it only to have their cats shred it the next morning, or Rebecca who got to the tips only to find out she'd made a mistake deep in the centre rib. (Oh, hon.)
If I brought it along with me to a knitting night, experienced knitters would have something to say, and I learned things I didn't find on my own. Tips like putting in lifelines (sweet Lords of Kobol, yes), and how to block if you don't have blocking wires. The more I learned about other people doing laceweight shawls the more I learned how common and do-able this was, but I also felt like I'd found the tip of some tangly lacy iceberg. Knitters who hadn't done laceweight before would ooh and ahh at the project and I'd get all mumbly. (Like Linz put it, people would think I'm a better knitter than I actually am.)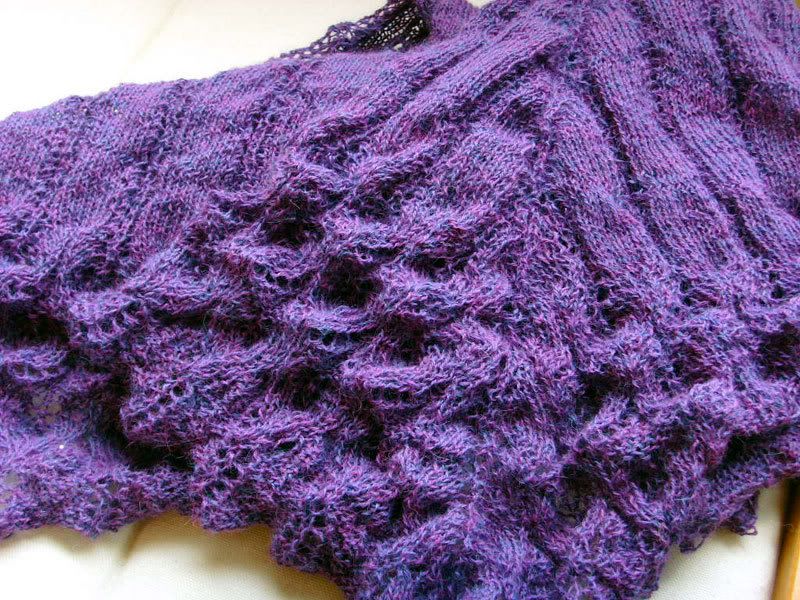 A metric ton of people have recommended this as a good beginner shawl. I'm still undecided. In terms of technique, I don't think it would be any more challenging than learning fair isle. If you can follow a chart and, like Rochelle told me, if you can do yo's, k2tog's and ssk's, you can knit lace. The hard parts were doing it all on laceweight for the first time, and doing it on a pattern that doesn't always have a plain stockinette pattern on alternate rows. The Chart 1 sections were good once I got into a groove, but it took me 3 or 4 repeats to get there. Chart 4 was a whole lot of concentrating. My last rows were over 600 stitches long, and started to get hard on my wrists. Binding off took about 3 hours.
If I was going to sell other people on lace knitting it would be on cost. The knitting hours don't make it a quick fix but the price certainly does: two skeins of Misti Alpaca is cheaper than most sock yarns out there.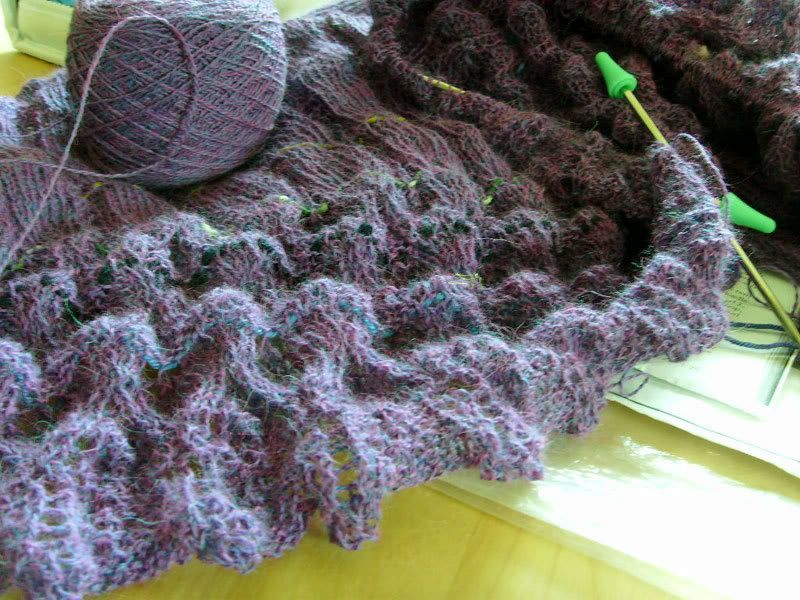 It also helped to have other small lace projects to practice on as I went: the Small Capitals socks from Sensational Knitted Socks, the Gossamer Shell Scarf from One Skein Wonders, and Medrith's Little Lace socks from A Gathering of Lace (still on the needles). I'd recommend trying lacy socks to anyone who wanted a starter project, because they're small project and the charts have enough repetition to get you really comfortable with the stitches. Branching Out was helpful because it had a centre rib, just like a shawl, and enough complicated decreases to learn on, but learning the pattern was harder. In fact, I think the Medrith's Little Lace socks were the project I learned the most on, and they were the ones I cast on toward the end of Icarus. Somehow, the charts and technique all clicked. For me it was more than about knowing the techniques but being able to read my knitting and understand what it was all doing.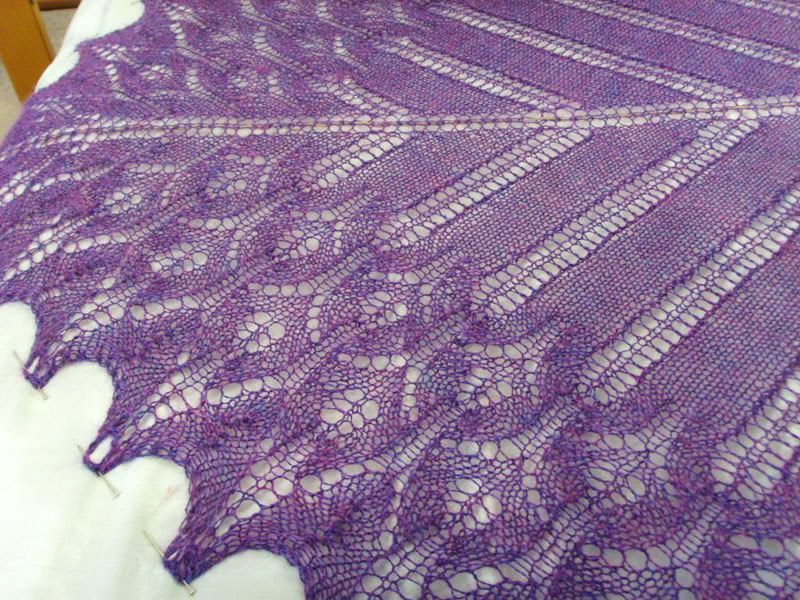 But blocking, okay, blocking is pretty fantastic. They don't lie about that. Anything that takes a squishy, matted blob and turns it into this, is awesome.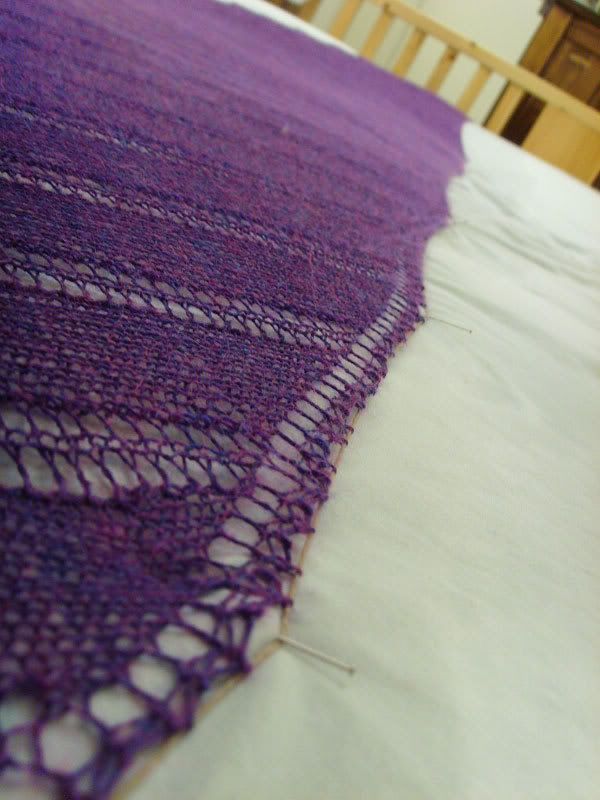 I followed the pattern's alternate instructions and strung a piece of cotton (Patons Grace) along the top and centre rib. Gave it all a good soak, cotton and all, with Eucalan and spread it all out on the futon, covered with a sheet. To get it really tight I tied both ends of the cotton to the futon arms and pinned it straight. One pin for each tip. I left it out before bed and by this morning it was dry. Wore it out to the Knitter's Frolic in Toronto to show it a good time. It was well pleased.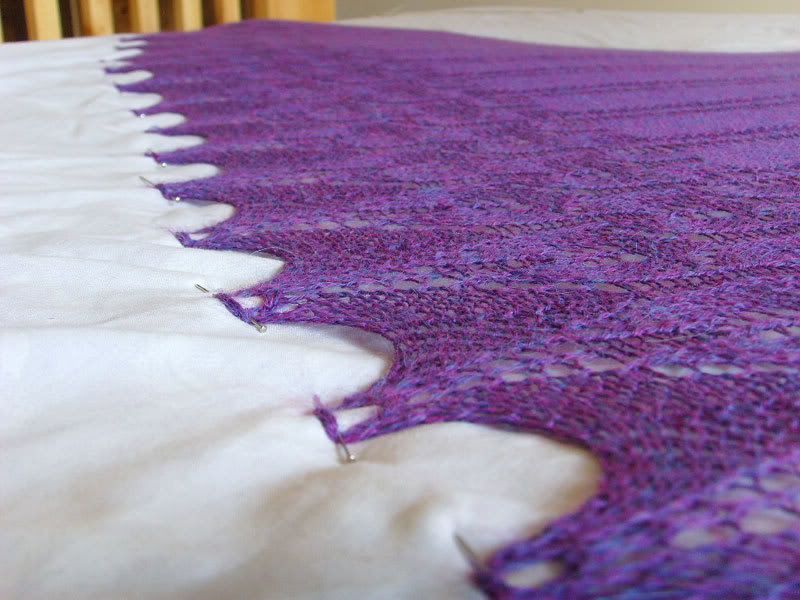 Now that it's done I'm glad I can finally wear it and move on to my next project. I kind of can't believe I actually… did that. For beginner knitters I feel like we always downplay the challenges of projects because if you don't you risk scaring them off. This wasn't easy but I learned and I worked and I did it and I'm pleased. There's a whole subset of knitting that doesn't scare me any more. So if you want to do Icarus (or any shawl, really), and you think you can do it, you can. It's hard but you can do it. I think it might be that simple.