So if mathematicians are allowed to divide the set of all numbers that exist into the Real and Imaginary, then looking at your knitting in the same categories should be totally and completely natural. (*cough*)
I crashed hard and fast into fantasy world after opening a few birthday gifts this weekend. Including yarn Steph let me pick out on the yarn crawl, yarn I let myself pick out on the yarn crawl, more sock yarn enabling from Glenna and mom, and a gawjiss Kaffe Fassett book (Kaffe Knits Again) from Philip.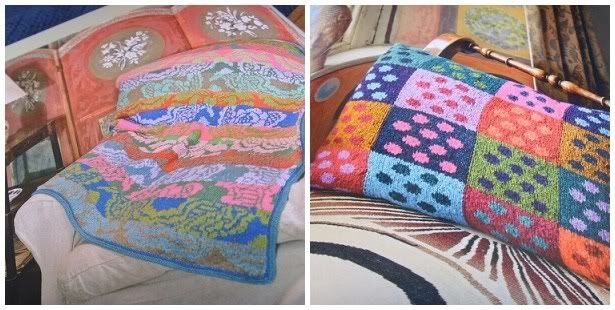 This is totally in the category of Things I Would Never Pick Out For Myself Because It Looks Too Hard, even though Kaffe himself, the Mason-Dixon ladies, and everyone I know who's ever knit colourwork say it really isn't. Mom had a couple Kaffe Fassett books that I remember looking at when I was littler and didn't knit, and I thought the patterns were pretty cool. (Now I look at them and see them more as artful pictures, because if my brain actually accepts that these are things it is actually possible to assemble through the act of knitting, something breaks.) Those ones there, the brocade throw and polka dot cushion, are definitely in imaginary knitting land, for the day I decide to give myself over to the colourwork fairies. 
On the subject of blankets, I realized with a tingly epiphany that the pile of Jamieson's Shetland Aran I got at the tent sale last summer could really, really, be re-appropriated into a Hemlock Ring blanket. (Or maybe just straight-up Feather & Fan from GOL.) I'd love an Odessa hat out of another bit of gifty yarn. I still want to try make the Crosswalker's socks work, but at least two more of my sock yarns would be perfect on another Forest Canopy shawl too. I could turn another chunk of linen into an After Dark Nightie instead of another summer top. I still haven't actually started a Woodland Shawl even though it's been on my queue since December. Scarf version in STR? Shawl version in Dream in Color Baby? Choices.
I know it'll be months before most of those will even see a queue, but looking back at my last round of hypothesising, there are three from that list that have seen the needles since then. So who knows?
Emerald's grown to its third ball, Percy's in the middle of the front flap, and the back of the tuxedo top's done. Let's git 'em done and then turn some others into reality.