Oh dear. I seem to have lost February. Maybe it got stuck behind the fridge or underneath the couch cushions with some loose change.
The knitting hasn't stopped though, even if it's been slowed down by the natural pace of work & commute & home time, and having started more bigger projects than smaller ones. So far this year I'm 2 pairs of socks for 2 months. I've discovered if I just assign socks as commute knitting, it's a nice month-long project. So last week I finally finished up the Crosswalkers Socks. The yarn is Verve by The Unique Sheep (in the Doctors Without Borders colourway), which is a 100% superwash wool, and my 3rd prize at last year's Scavenger Hunt. My first attempt at this pattern didn't work out, and since then the yarn has been sitting there all messily re-wound waiting to get knit. I'm stoked it's finally off the list.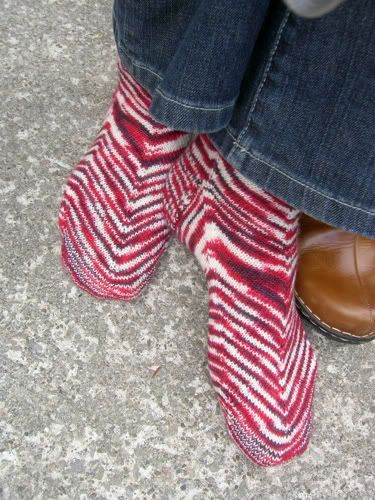 The pattern is essentially a simplified Jaywalker: there are only four zig-zags instead of eight. It suited the variegated yarn to show the bias in the fabric, and I did my first eye-of-partridge heel. I like the yarn okay. Drawbacks I'm wondering about are that it was a leeeetle splitty at points, and the red is so bright that I'm concerned how much it will bleed after washing.
I'm not sure though, if I'd knit this pattern again. I went up to 2.5mm needles instead of the 2.25 the pattern calls for because the leg ended up being so tight I could hardly get it over my foot. (High arches. Bahhhhh.) But, since there's much less biasing on the foot with the entire sole being stockinette, the foot is naturally slightly looser. So in the end, these fit, but I'm leery about having some saggy, baggy sock feet down the line.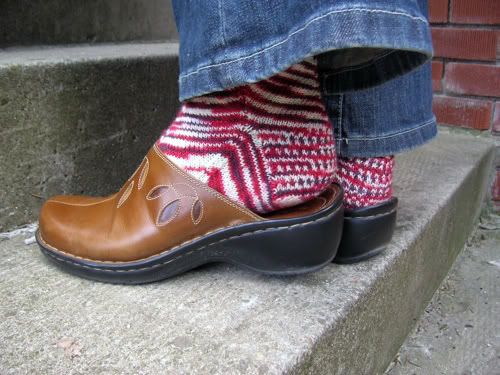 In January I finished the Twinkleberry socks, of the short-row-heel-grafting extravaganza. They are in Lorna's Laces Shepherd Sock, and are dee-lite-ful, both for the yarn and the pattern. I have one other pair in Lorna's Laces already, and it is almost without fail the first pair I wear after the laundry basket is emptied. This yarn can take lace and I don't worry it's all going to fall apart. It's soft and warm and light, and you'd hardly know the nylon is there. (In fact, for a long time I laboured under the misconception that it was 100% wool. Who knew?) I'm just going to have to knit more.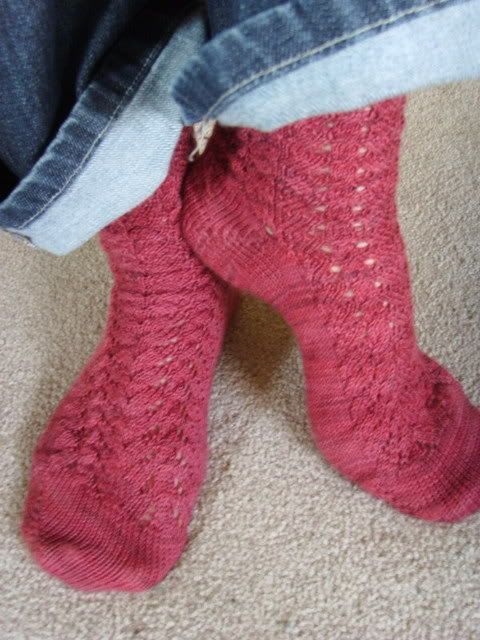 With these two pairs it's hit me how seldom I actually knit socks. Although my stash basket is near teeming with fingering weight, there are actually only 7 pairs of handknit socks in my sock drawer that get any kind of regular wear. Of those, 1 pair was a gift and four were made 3 or more years ago. Last year, I only knit one pair. Somehow, I feel like someone should take away my knitting license, or at least dole out demerit points.
My other February project is waiting to be blogged, but if all goes apace I'll have something big to blog, finally. It's sweater season!