Well finally there's a real FO to show off around these parts. This is Treeline Cardigan from Purl Bee. I started it way back at the beginning of February, after a yarn crawl with Glenna and Kate got me thinking about those little bits of Silk Garden I had hanging around my stash.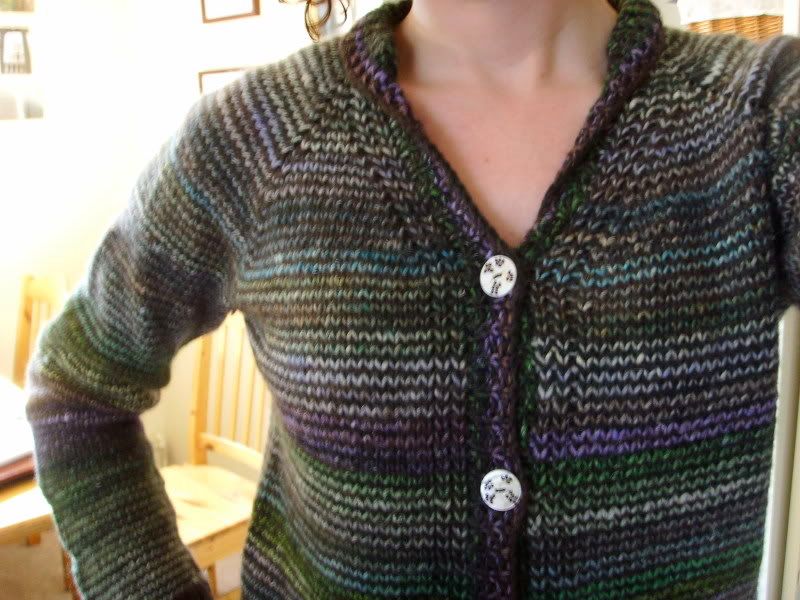 We were at the Naked Sheep in Toronto and I was fondling the Silk Garden cubbie (as you do), and realized there were a few skeins I could put together to make this. I went home and scanned the yardage requirements, and the only thing holding me back from starting it right then and there was that I needed more yarn for the second colour and the next day was Sunday and all the LYSs were closed. I ended up back in Toronto later that week, and back at the Naked Sheep, thinking I'd pick up some Cascade 220 to stripe it with. But after staring and staring at colour options trying to make it work, I asked the gal at the store for help, and she went right over to the Malabrigo shelf (Mmmmmmmalabrigo) and pulled out a dark chocolatey brown that was perfect. Just perfect. And lo and behold I was dropping more money than I have ever spent on a project in my life. 
Then, I brought it home and knit happily through the dead of February cold with the cozy wool and silk-mohair making me feel warm just knitting it, and was almost done…. and then I had to do this: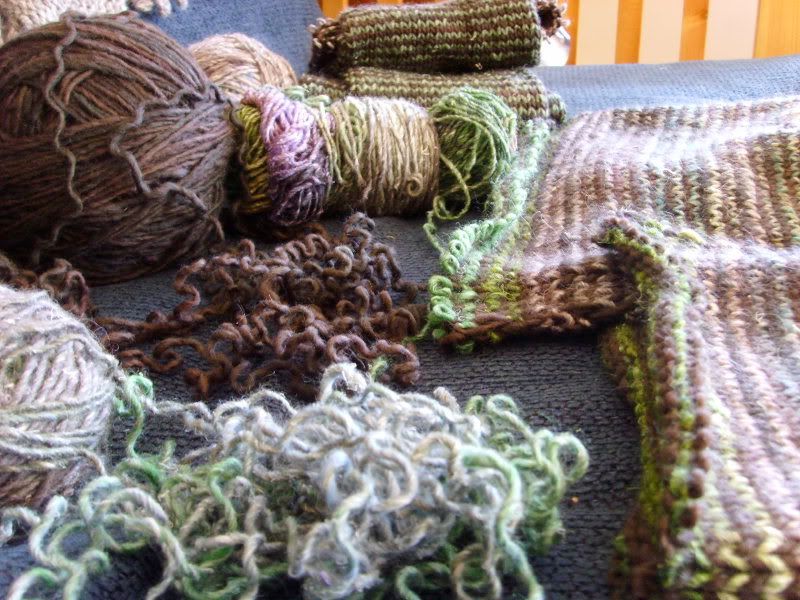 See, here's the thing, see. I should never try to be smarter than a pattern. And while I'm doing that, I should remember that gauge swatches aren't just for show. Since the pattern calls for Manos wool, which is a little heavier than what I was using, and since I had got it into my head that 2 inches of ease was just not enough, I cast on way too many stitches for the body. It became apparent, after getting to the yoke and trying it on, that it was just not going to work. And if I was going to finish a sweater with materials like this, it had to be better. So I ripped back to just above the body ribbing, and went back at it. So here we are two months later and it's finally done.
So I think the beginning of spring, when it's warming up and we're shedding all our layers and enjoying the sun and getting ready for cottons and linens and light jackets is, um, totally the perfect time to wear a wool/mohair sweater, right? Yeah, me too. Definitely better than the dead of February, anyway. Shyeah.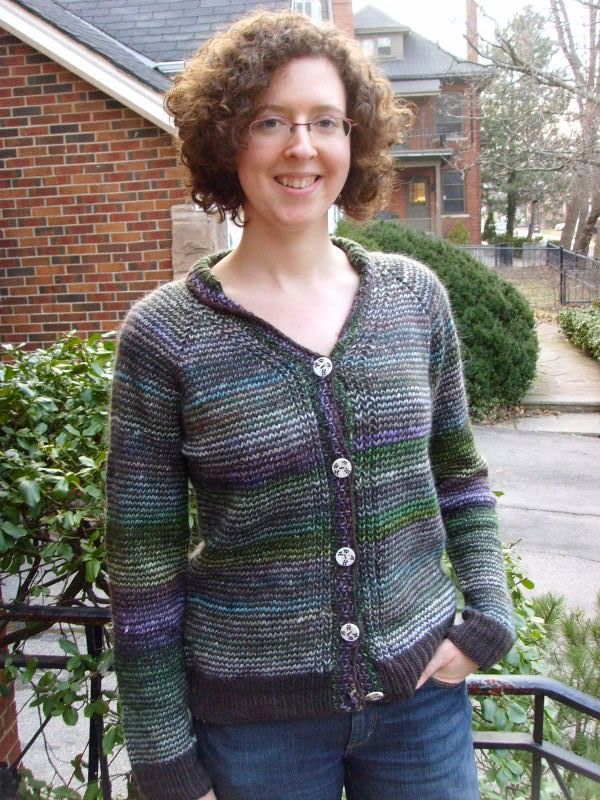 There are still some things that are bugging me about the finished object, but overall I'm happy with this pattern and I'd consider knitting it again next year. I really like the look of the single-row stripes, and the ribbing detail around the button band. I think this would work in just about any worsted weight wool, which makes me want to grab some Patons on the cheap and just crank one out in whatever colour combo. I've noticed most versions of this sweater on Ravelry have made the button band in the solid colour instead of stripes, but I like the funky detail of the striped band. 
The pattern is written in only two sizes but since it's really your basic bottom-up raglan cardi, it wouldn't be hard to modify. (Having said that though, there was something about the yoke shaping that just didn't work out for me. Somehow after completing all the requisite decreasing, I had too many stitches and had to fudge a little once I got to the collar.) You could also add some waist shaping to the body for a better fit. The one drawback to the yarns I used, is Silk Garden's complete inelasticity. Even though I think the Malabrigo mediates that a little, the finished sweater is still a little too drapey.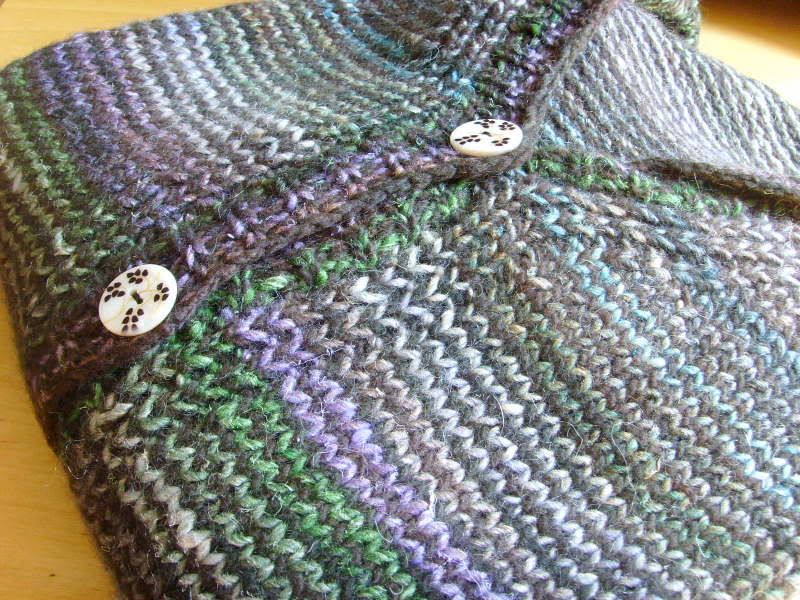 This sweater is a really upscale version of a basic comfy cardi, and the details in the pattern add a lot of interest. I won't get as much wear out of it this year as I was hoping, but I will next winter. I actually don't have too many sweaters in my roster, so this starts to fill out my closet a little more too.
Onwards and upwards. My knitting's still going slowly but now that spring is in the air I might actually be able to get back to all that linen I had to ditch last August.