I just got back from a little mini-break in New York, visiting friends Rebecca and Chelle, and all around having a fabulous time. It turns out there's a whole lot of that place to see.
Walked everywhere, ate everything. I think I have eaten myself into a new pants size. Over the course of the trip we covered Brooklyn (Bay Ridge/Park Slope/Coney Island), The Village, Midtown, Central Park, Upper West Side, Upper East Side, and the Bronx (Wave Hill/The Cloisters). I went to the boardwalk at Coney Island and survived eating a deep-fried Reese's peanut butter cup, played on the piano at FAO Schwartz, went into Bloomingdales, Grand Central, NYC Public Library, St. Patrick's Cathedral (wow), enjoyed the sunshine in Central Park and Wave Hill, saw pillaged medieval artefacts in the Cloisters, ate mexican twice, bagel w/lox & cream cheese, BBQ, pizza, the best cookies, pita & pizza I have ever eaten, afternoon tea, re-visited the glorious halal cart, middle-eastern restaurant and ice cream stores from before, learned Guitar Hero, shopped for delicious yarn, and there was hardly any drinking at all which must mean it was all too chill for our own good.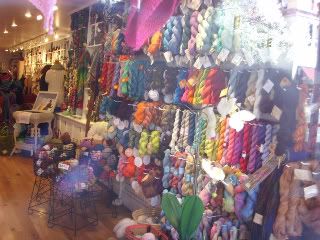 I made three yarn stops, to Annie's Needlework (new to both R and me), Knitty City (I mean we had 45 minutes to kill while waiting for a table at Alice's Tea Cup, and what would you have done?), and The Point (accidentally, with C, when we discovered we were just a few blocks away, after a tea shop search after lunch in the Village).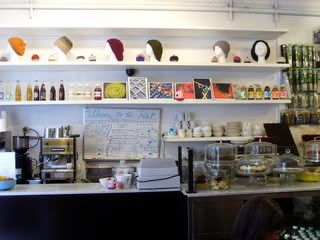 At Knitty City we had a quick browse and there were these two skeins of Dream in Color "Starry" (in Cloud Jungle and Cocoa Kiss) that just leapt into my arms without so much as a please-and-thank-you. (Also somewhat badly timed, because they would have been perfect for the Viper Pilots socks that I had just cast on for the trip.) At Annie's I bought two skeins of Araucania Ruca, which is made of sugar cane and has a feel somewhere between bamboo and silk. Very plant-y. It's destined to be a shawl which I might cast on for soon (just don't tell my linen).
There's no way I can ask work to let me not come in for a month so I can give my knitting the time it deserves, is there? Darn it.