For someone who knits slowly and hardly knits sweaters, I'm a little surprised to be cranking out my second one of the year. Presenting Licorice Whip, in Gedifra Tiago (silk/rayon):
You may remember this yarn from such previous blunders sweaters as the Lion Brand top-down raglan cardigan. That sweater looked not so bad, but it was a marriage of yarn and pattern that was not going well. One day I looked at it in the drawer, realized I had not so much as put it on in almost a year, and realized I need to draw up some divorce papers. The silk/rayon is way too heavy for the cardigan, and I still had 3 full balls of it left in the end. I found Licorice Whip while browsing pullover patterns on Ravelry. It calls for aran-weight cotton and this seemed a good substitute.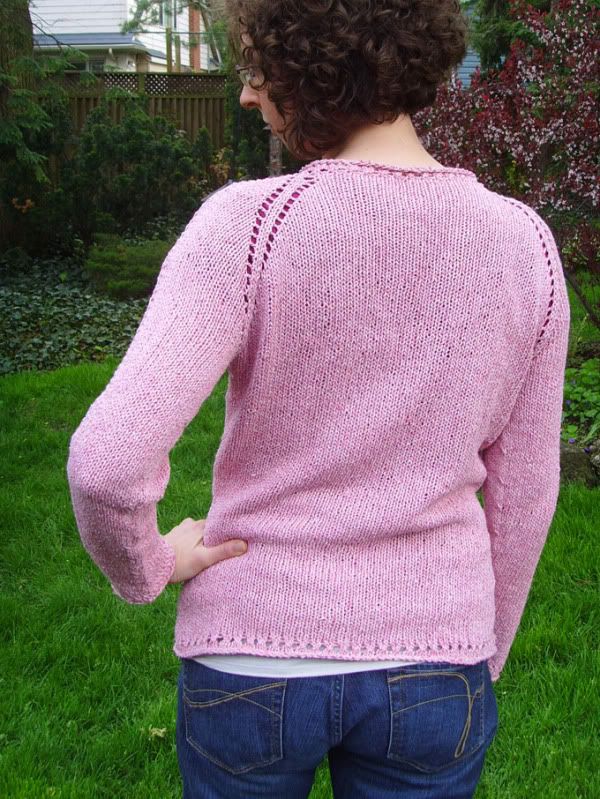 It's a double bonus because this is yarn that's been on my conscience since two summers ago from the Needle Emporium Tent Sale in Ancaster. It's a case of sales making you buy something you ordinarily wouldn't. (Random silk blend? Nah. Pink? When do I ever choose pink?) (For context, this plus the Jamieson's wool cost $100 altogether. I mean how could you not?) So using it up in a pullover finally gets it off my conscience. You wanna know what the best part is? This is the sum total of the yarn I have left: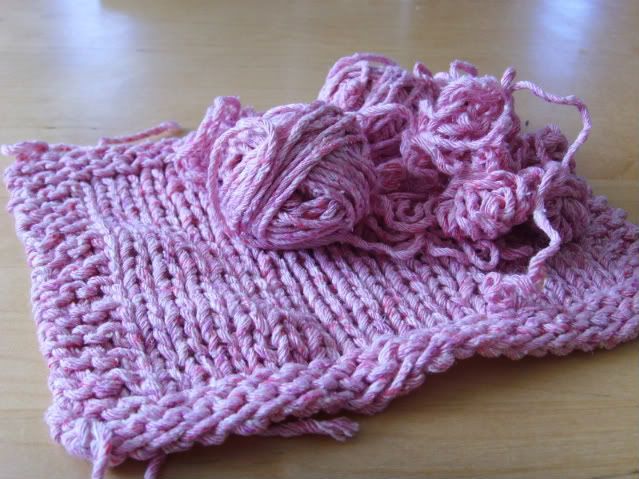 I won't lie, there were moments on the last sleeve of "oh thank Jesus I still have my gauge swatch."
This is a nice pattern. I'm happy with the fit. The shaping really helps the yarn. The lace details add interest to what is basically a generic top-down raglan. I'd almost recommend against a wool yarn for this because the weight helps the look and feel. The yo holes are a little too lacy if the wind is going, but all in all I call it a win. Now I just have to figure out what I have in my closet that pink goes with.
Next up, I'm getting my EZimm on and trying a Baby Surprise Jacket for a work gift. We'll see if it works out. I might be knitting a ranch house.
P.S. I have to thank everyone for the Ravelry love on Treeline. It is a great, comfy, fun cardi! Everyone should go knit one too, in every colour.