1. Finished the BSJ last week and darn if that isn't the cutest niftiest thing you would ever want to knit from a pattern that happily blinds you to any possibility of oh, say, visualizing what you are actually making. Awesome. I'll make more. Who else has babies?
I squeaked this out in two skeins of Manos Cotton Stria (a giftie from Steph last year), and I do mean squeaked. I knew this was possible because I saw one other person on Ravelry had done it with the same two skeins of the same yarn, and had to modify the button band to be able to finish. Like her, I also needed the yarn from the tags to sew it up.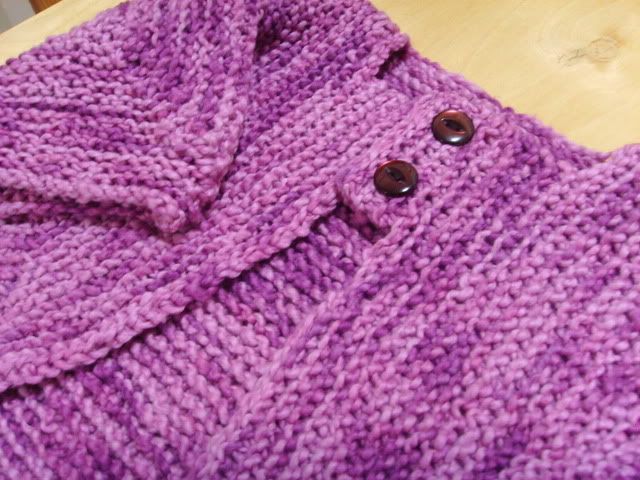 But it does look awful cute, and I hear the recipient arrived well ahead of schedule, on the weekend. I think her mum's pleased.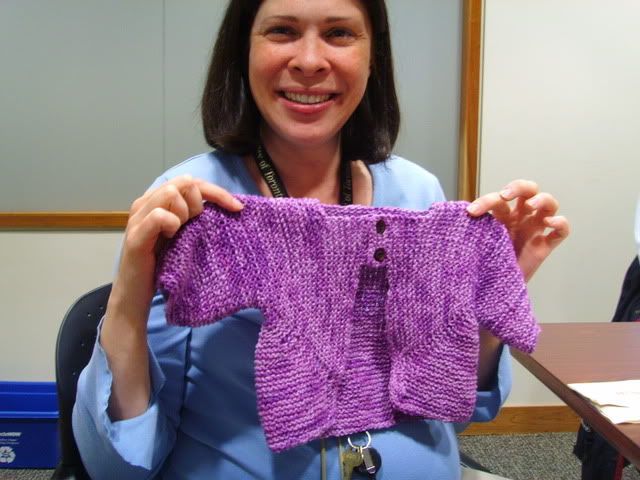 2. Took in my very first lacrosse game on the weekend with a friend from my old department. Now, lacrosse is half of our national sport (hockey getting the winter half), but I had never actually witnessed it being played. It turns out it is a lot like hockey, only with less padding and more actual hitting people with sticks. (It was explained to me that indoor lacrosse is even worse.) Imagine soccer players with helmets and chest pads carrying tiny fishnets on sticks. It was fun. And I caught a t-shirt they tossed into the crowd. The BMO arena itself is a nice spot to sit in too, especially if you're on the side that gets you the cool view of the skyline.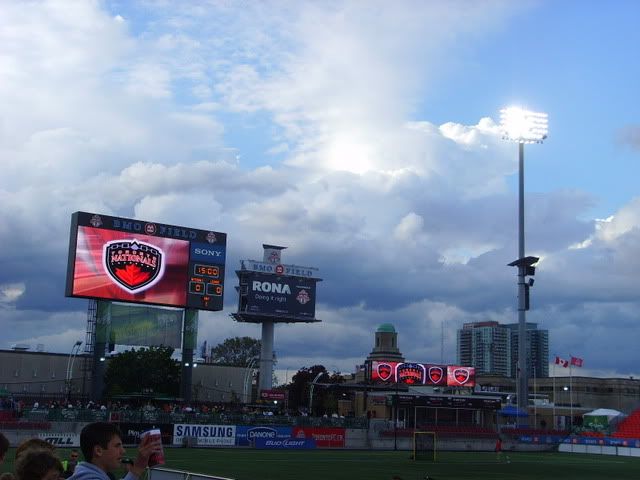 3. Rest of the weekend was spent at the cottage with another friend, where we ate and drank our faces off, watched movies, and I spent some quality knitting time with some yarn that came home with me from NYC.
This is Springtime Bandit, in Araucania Ruca Multy, a yarn that seems to want to exist in pastels and only pastels, but is so soft I want this thing done and wrapped around my neck stat. It's like bamboo, but heavier. And it's enjoying the structure the lace pattern is giving it. So if I can push past this nice honeymoon period before the traditional shawl stage of "oh god when will this row end why is this hurting me" kills the love. Mmm, new shawl. Yummy.